If you've ever felt like your chest was on fire after eating a big or greasy meal, then you're probably familiar with heartburn. Heartburn is the main symptom of gastro-oesophageal reflux and can be very uncomfortable. New York Bariatrics & Laparoscopy is one of the most comprehensive centers for the treatment of heartburn in the tri-state area.
A new and non-surgical option for heartburn is the Stretta. Stretta is an endoscopic procedure which delivers radio-frequency energy to the muscle between the stomach and esophagus, which remodels and improves the muscle tissue, resulting in improved barrier function and fewer reflux events. Stretta treats the underlying problem that may cause GERD without surgery.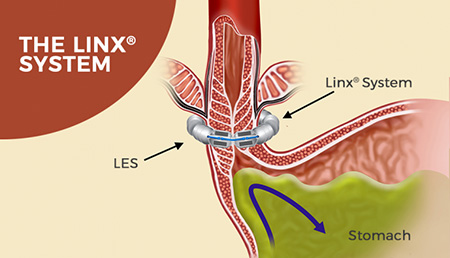 Another very effective treatment for heartburn is the LINX Reflux Management System. Linx is a treatment for GERD that consists of a small band of magnetized titanium beads wrapped around the lower esophageal sphincter located at the base of the esophagus. This band helps prevent gastric acids from pushing back up into the esophagus from the stomach, yet also safely allows the lower esophageal sphincter to open when required to allow for easy swallowing.
A tried-and-true procedure, the Laparoscopic Nissen fundoplication is a minimally invasive procedure which is done to restore the function of the lower esophageal sphincter (the valve between the esophagus and the stomach) by wrapping the stomach around the esophagus. It is performed to relieve symptoms of chronic severe heartburn. The acid and alkaline fluid from the stomach can damage the lower esophagus and lead to the development of a premalignant condition known as "Barrett's esophagus."
Dr. Vohra and Dr. Nishimura perform many complex surgeries with minimal incisions, scarring, and patient recovery time. We work closely with each patient to explore all options and design a treatment plan specifically for them. If you would like to learn more about our procedures to relieve heartburn, please contact our office at 516-374-8631 or click here.