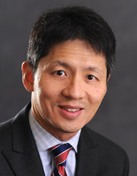 Dr. Robin Huang M.D., F.A.C.S
Robin Huang, M.D., F.A.C.S. is a staff physician at South Nassau Communities Hospital covering acute care surgery, elective general surgery, minimal invasive surgery, endoscopy, and assistant in bariatric surgery.
Education & Training
Medical School: St. George's University School of Medicine (graduated 2002)
Residency: State University of New York at Buffalo (finished 2007)
Fellowship: South Nassau Communities Hospital – Minimal Invasive Surgery (finished 2008)
Memberships
ASBS: Regular Member
American Medical Association: Yes
SAGES: Yes
American Board of Surgery: Yes
Please note that the information in this website is an educational resource, and should not be used for decisions about any obesity surgery or management. All such decisions must be made in consultation with a surgeon or your healthcare provider.