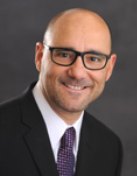 Gabriel Becchinlli, RPA
Gabriel Becchinlli, RPA is a graduate of St John's University and has been a surgical P.A. for 30 years. Gabe has been at South Nassau Communities Hospital for 19 years and in Bariatric surgery for 18 years.
Please note that the information in this website is an educational resource, and should not be used for decisions about any obesity surgery or management. All such decisions must be made in consultation with a surgeon or your healthcare provider.