Revisional Surgery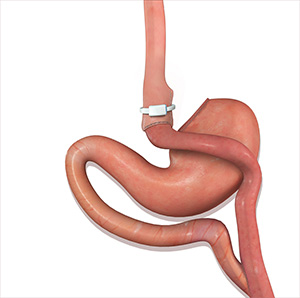 Patients who have had previous weight loss surgery occasionally require revision. This may be required if there are medical complications, inadequate weight loss or weight re-gain. Revisional surgery can help get a patient back on track with their weight loss goals.
Dr. Vohra's multi-disciplinary revisional program provides the latest surgical options along with nutritional and behavioral assessment and bariatric education specifically designed to address the special needs of our patients for optimum success.
Contact our office at to schedule a consultation or use our online Appointment Scheduler.
Revisional surgery procedure options we offer:
Lap-Band™ over Gastric Bypass
Gastric Band to Sleeve Gastrectomy
Vertical Banded Gastroplasty (VBG) to Sleeve Gastrectomy
Gastric banding with plication
POSSIBLE INDICATIONS ASSOCIATED WITH WEIGHT LOSS SURGERY
Indications for Revision of the Adjustable Gastric Band
Slipped/prolapsed band system
Inadequate weight loss
Intractable reflux (heartburn)
Wall erosion
Dysphagia (difficulty swallowing)
Intractable vomiting
Indications for Revision of the Roux-en-Y Gastric Bypass
Inadequate weight loss & weight re-gain
Presence of a fistula – communication or channel between the gastric pouch & the bypassed stomach
Presence of a gastric ulcer not responsive to medical treatment
Pouch outlet stenosis or dilation
Chronic vomiting
Excessive weight loss &/or malnutrition
Indications for Conversion of the Vertical Banded Gastroplasty
Inability to eat without nausea &/or vomiting
Any of the above indications for Revision of the Roux-en-Y Gastric Bypass
Revisional Surgery FAQ's
Coming soon.
Related Topics:
Please note that the information in this website is an educational resource, and should not be used for decisions about any obesity surgery or management. All such decisions must be made in consultation with a surgeon or your healthcare provider.