Single Incision Laparoscopic Surgery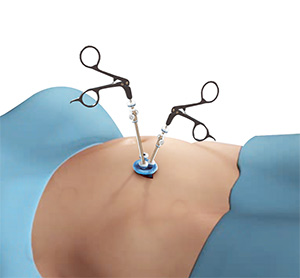 Scar Free Laparoscopic Weight Loss Surgery – An Immediate Advancement in Patient Care!
Single Incision Surgery – Bariatric Surgery without the Scars
Dr. Vohra and Dr. Nishimura are proud to be two of the selected surgeons in the United States to offer single port access surgery.
Using the latest full-range-of-motion handheld laparoscopic instrument, a 1/2-inch incision is made within a patient's belly button resulting in a "single hidden scar". The flexibility of the instruments along with the skill of the surgeons allows the entire procedure to be performed through this one incision.

Taking laparoscopic surgery to a new level, Dr. Vohra is utilizing this procedure with gallbladder, hernia, colon repair, spleen, lap band surgery and sleeve gastrectomy. Patients enjoy less discomfort, quicker incision healing and no traumatic body scarring.
For additional information on Single Incision Lap Band Surgery, we recommend that you attend our next upcoming seminar.
Related Topics:
Please note that the information in this website is an educational resource, and should not be used for decisions about any obesity surgery or management. All such decisions must be made in consultation with a surgeon or your healthcare provider.